At Delcor we support the mission of Riley's Army. We have hosted an annual Teed Off at Cancer Golf Tournament fundraiser since 2012 and look forward to it every year!! Typically we have a great turn out for the Golf Tournament with over 100 golfers, but we would love for this number to grow. Come join us each year and help support a great cause! 
Riley's Army charity organization has a mission to support children with cancer and their families during the difficult path of cancer treatment and raise pediatric cancer awareness. This non-profit organization was founded by Riley's parents who, despite both being physicians, found it difficult to navigate through the medical journey of childhood cancer and maintain a healthy home environment. The community reached out to Riley's family during her treatment and the support came in all types of forms, volunteers to stay with Riley at the hospital, babysitting the children at home, dinners for the family, and numerous other services provided. Riley's parents considered the volunteers and supporters "Riley's Army". With cancer affecting many other children and their families Riley's parents did not want the amazing support from the volunteers to disappear because they will no longer need support someday. Through Riley and her amazing kindred spirit the community has come together and continues to help other children in need. Today Riley's Army assists numerous families during the trails of childhood cancer and the Army continues to grow as each additional family brings more motivated volunteers to assist the family for the wellbeing of children.
Provide individualized support for the family
Provide educational, financial and logistical support for the children and family
Help facilitate efforts of other organizations for pediatric cancer patients
Advocate for patient centered care.
Raise pediatric cancer awareness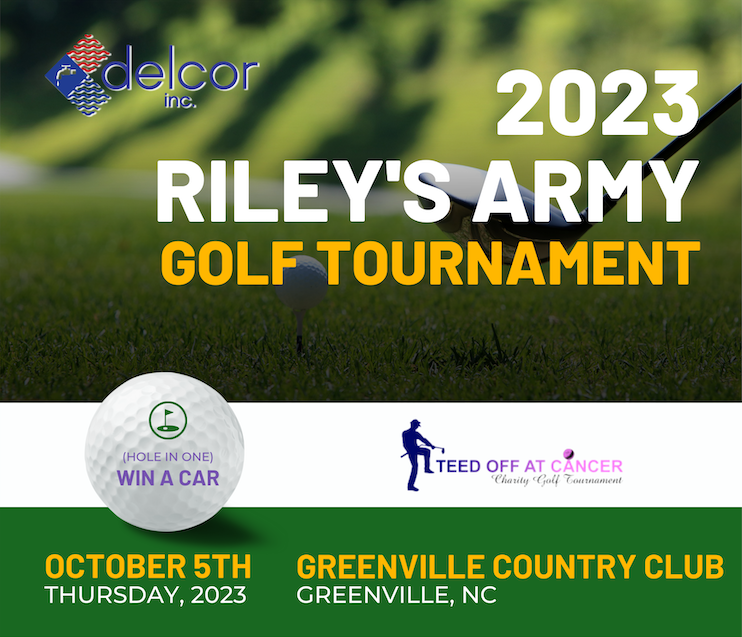 Date: Oct 5th, 2023
Location: Greenville Country Club
Tee Time: 10:00 am
Registration: 8:30 am -9:45 am
Contacts:
James Greenleaf – 252-321-8868
Leah Osborne – 252-321-8868
Get Info by Calling Delcor at 252-321-8868.